Section NE-4B Officers 2018-19
Section Chief: Ethan Mooney
Ethan Mooney is an Eagle Scout and Vigil Honor Member of Kuskitannee Lodge, Moraine Trails Council. Prior to being elected section chief, he served as lodge chief, lodge vice chief, and section vice chief. He was asked to attend the National Train the Trainer for the new National Leadership Seminar and is currently serving as the chief of staff for the Northeast Region's NLS programs. Ethan attended the 2015 and 2018 NOACs, two National Jamborees in 2013 and 2017 and the NEXT Conference that took place in 2016. Ethan is a recent graduate from Seneca Valley School District and is currently studying Computer Science and Cyber-security at Slippery Rock University. Ethan is excited to serve alongside Braden and Nik and is looking forward to representing the section at the National Planning Meeting in Dallas this December.
Section Vice Chief: Braden Coffman
Braden Coffman is an Eagle Scout and Vigil Honor Member of Wagion Lodge, Westmoreland-Fayette Council. Braden has served as trading post chairmen as well as secretary for his lodge. He has attended the 2015 and 2018 NOACs as well as the Summit debut at Prism in 2016. Braden also served as a trek guide member for the Operation Arrow Staff at the 2017 National Jamboree. He is currently studying engineering at Penn State UniversitBIOBIOy at the Fayette location. Braden looks forward to serving as Section Vice Chief.
Section Secretary: Nik Miller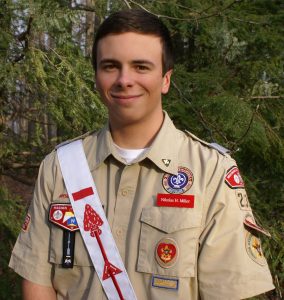 Nik Miller is an Eagle Scout and Vigil Honor member of Wagion Lodge, Westmoreland-Fayette Council. Nik served as the Lodge Secretary, Brotherhood chairman, Unit Elections/Camping Promotions chairman, and is currently the Lodge Chief. He attended NOAC in 2018 and NLS at Camp Alpine in 2017. Nik graduated from Hempfield Area High School in Greensburg, PA and currently attends Westmoreland County Community College where he hopes to earn his Welding Engineering Associates of Applied Sciences degree. Nik is looking forward to serving the order at the Section level!
Section Adviser: Rich Hager
**Coming soon…**
Associate Adviser: Jonathon Chester
**Coming soon…**
Staff Adviser: Charlie Huse
**Coming soon…**